Alright guys, let's talk NIGHT SCHOOL!
First of all, this book should come with a big fat warning label: MAY CAUSE SHORTNESS OF BREATH AND SWEATY PALMS. PLEASE ENJOY WITH CARE.
Well, here we go. Are you ready? Steady breath, one, TWO!
Let's watch me struggle, trying to accurately describe my feelings for this wonderful book. It'll be a beautiful struggle, but a struggle nonetheless.
Resistance

, the forth book in the

Night School series

picks up 3 months after the dramatic ending of Fracture. Allie and Rachel have been rushed from one safe house to the other since their hasty departure and nothing has been the same since. Nowhere is safe and no-one can be trusted.
Allie is preparing for the biggest battle yet, ready to fight and finish this war, once and for all. This time, she's not only fighting for justice, but for her own survival. This time, there's a price on her head and Nathaniel is prepared to take it all. For good.
Prepare for extravant chase scenes, intrigue, mystery and superb writing that takes you effortlessly to the end.
DON'T READ PAST THIS POINT IF YOU HAVENT READ RESISTANCE
I'm warning you... No peeking!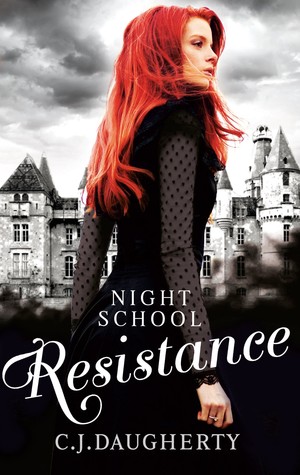 A
lright, let's get real for a second. As fabulous as she is, CJ loves toying with the readers emotions, she's a mastermind and an absolute evil genius. Especially when it comes to the last two books. We all know she's broken many hearts when Carter and Allie called it quits in the second book, mine included. Some us were happy about it, running the streets, filled with joy and the other half curled up in the fetal position with a huge tub of Ben and Jerry's.
And while the whole romantic situation was still a little icky in Fracture, Resistance brings a whole new world of agony. Sylvain, Carter, Carter, Sylvain?
I can assure you, Resistance will take you on a wild ride. Heartbreak guaranteed.
Romance aside, we FINALLY, find out the true identity of the spy and I must say, I wasn't as shocked as I thought I would be. A little weirded out and confused, sure, but not as much as I expected initially. Definitely a brilliant move, though, so let's once again applaud CJ for excellent plot development.
Once his or her identity was revealed, it all made sense, pieces just fell into place so naturally and all my answers just flew right out the window. Let me tell you, I didn't see that one coming, but I loved it.
That whole scene was just glorious... and so worth the lack of sleep.
What I've loved most though, was watching Allie grow and just, y'know, do her thaang. She's grown up so much and oddly enough, watching her fight for the people she loved, with so much vigour and strength, filled me with pride and I just wanted to pat her on the shoulder, or at least give her one of those head nods that say 'YOU GO GIRL'
In all honesty, I really enjoyed watching Allie's character grow into the person she is now, determined, loyal and powerful. Despite making some, er, rather interesting choices along the way, our leading lady really has come a long way. Most of all, she has the heart of lion and that just never fails to amaze me, thus, I believe makes her one of young-adults feistiest and most loveable females.
Other than that, I LOVED Raj more than ever. I mean, does that man ever stop being awesome?! And then, there's Dom, new super tech wizard from America, sharp as a tack and there to save the day with her super fancy technical equipment. What a team.
I'm not going to get into too much detail about the rest, because that is something that NEEDS TO BE EXPERIENCED. I think I just screamed the whole way through, but let me tell you this, if you think you're prepared for whats about to come... you're wrong. Yup, you heard. With and ending like THAT, you better say goodbye to sleep, because you won't be getting any for a while.
Out of all the books in the series, Resistance is definitely the most action packed and I just can't tell you how much I loved it (and not just because there was huge surprise waiting for me in the acknowledgements.)
She's really done it this time, so if you're a fan of dark, mind boggling conspiracies, topped of with sizzling romance and the most agonising plot twists.... this is the book for you
. Connect with CJ on twitter: @CJ_DAUGHERTY
or check out her books on
GR
Find links to purchase Resistance below:
Kindle & Paperback
/ Amazon UK
Kindle & Paperback
/ Amazon US
Barnes & Noble
/ US