Two days into the new month and we've got a great list of books to look forward to.
March is a SUPER Book month with a ton of good titles! We'll be celebrating non-stop.
Here's a list with
OUR March favourites:
(No particular order)
1. Confess by Colleen Hoover (By Atria Books)
Publication date: March, 10th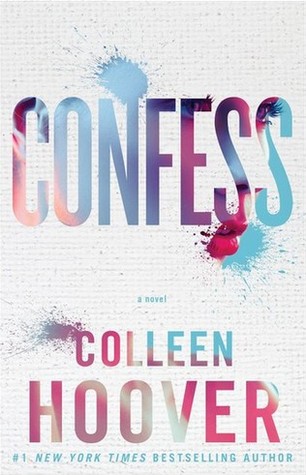 320 pages in this bad boy, huzzah!
''

Auburn Reed has her entire life mapped out. Her goals are in sight and there's no room for mistakes. But when she walks into a Dallas art studio in search of a job, she doesn't expect to find a deep attraction to the enigmatic artist who works there, Owen Gentry.
For once, Auburn takes a risk and puts her heart in control, only to discover Owen is keeping major secrets from coming out. The magnitude of his past threatens to destroy everything important to Auburn, and the only way to get her life back on track is to cut Owen out of it.
The last thing Owen wants is to lose Auburn, but he can't seem to convince her that truth is sometimes as subjective as art. All he would have to do to save their relationship is confess. But in this case, the confession could be much more destructive than the actual sin…''
Confess is yet another a new, exciting YA/NA novel by superstar COHO. Colleen is truly unstoppable, releasing new hits, left right and centre. You go girl. We're certainly NOT complaining and can not wait for this one to hit the shelves.
Can we quickly talk about the Cover?! Those colours? Damn girl. Coho's got it goin' on.
Get the e-book for £4.68
$7.22
2. Vanishing Girls by Lauren Oliver (By HarperCollins)
Coho & Lauren are publication twins - Vanishing girls comes out on the same day, March the 10th.
One day, TWO good books. What more could you want? Other than a bathtub full of kittens, but hey! This is almost as good, right?
386 pages, Hardcover - the good stuff! (If we Brits get the hardcover in our bookshops however, remains up for debate...we'll have to see.)
What a beautiful cover as well. Goodness.
''Dara and Nick used to be inseparable, but that was before the accident that left Dara's beautiful face scarred and the two sisters totally estranged. When Dara vanishes on her birthday, Nick thinks Dara is just playing around. But another girl, nine-year-old Madeline Snow, has vanished, too, and Nick becomes increasingly convinced that the two disappearances are linked. Now Nick has to find her sister, before it's too late.
In this edgy and compelling novel, Lauren Oliver creates a world of intrigue, loss, and suspicion as two sisters search to find themselves, and each other.''
Vanishing Girls tells the story of two sisters inexorably altered by a terrible accident.
Sounds spooky eh? Well the book is listed under suspense/mystery thriller so we'll have to be careful. Perhaps not a book for the faint-hearted. Better read it when its
still
light
outside.
;)
Get the e-book for £5.03
$7.76
3. Liars, Inc by Paula Stokes (By HarperTEEN)
Expected publication date is on March 24th
Another Hardcover, hurray. Liars, Inc. comes with 386 pages as well and is another murder-mystery we're super excited about.
''Max Cantrell has never been a big fan of the truth, so when the opportunity arises to sell forged permission slips and cover stories to his classmates, it sounds like a good way to make a little money and liven up a boring senior year. With the help of his friends Preston and Parvati, Max starts Liars, Inc. Suddenly everybody needs something and the cash starts pouring in. Who knew lying could be so lucrative?
When Preston wants his own cover story to go visit a girl he met online, Max doesn't think twice about hooking him up. Until Preston never comes home. Then the evidence starts to pile up—terrifying clues that lead the cops to Preston's body. Terrifying clues that point to Max as the murderer.
Can Max find the real killer before he goes to prison for a crime he didn't commit?''
Absolutely burning to get my hands on this! If you haven't heard about this book or Paula Strokes, we'd definitely recommend to check out her other works; some really great stuff.
No e-book links up just yet... SAD.
4. Where Sea Meets Sky by Karina Halle (Atria Books)
Expected publication: March 31st
This exciting paperback has 384 pages and a blurb that will knock you sideways. MUST. HAVE. NOW.
''Joshua Miles has spent his early twenties spinning his wheels. Working dead-end jobs and living at home has left him exhausted and uninspired, with little energy to pursue his passion for graphic art. Until he meets Gemma Henare, a vivacious out-of-towner from New Zealand. What begins as a one-night stand soon becomes a turning point for Josh. He can't get Gemma out of his head, even after she has left for home, and finds himself throwing caution to the wind for the first time in his life.
It's not long before Josh is headed to New Zealand with only a backpack, some cash, and Gemma's name to go on. But when he finally tracks her down, he finds his adventure is only just beginning. Equally infatuated, Gemma leads him on a whirlwind tour across the beautiful country, opening Josh up to life, lust, love, and all the messy heartache in between. Because, when love drags you somewhere, it might never let go even when you know you have to say goodbye.''
This new travel-drama hits the nail on the head. The story is fresh, intriguing and comes from a top author. I've been a fan of Karina's works for a while and was lucky to get an early copy because this book is absolute GOLD.
Get the e-book for £3.95
$6.10
5. Fall with Me (Wait For You #4) By Jenn Armentrout /J.Lynn (Avon)
Expected publication date: March 31st
The fourth one in the Wait For You series is finally almost upon us. Rejoice! As someone who really enjoyed this series, I can't wait to get stuck into this one.
''Eleven months ago, bartender and weird-shirt-wearing extraordinaire Roxy and Officer Reece Anders had a one night stand. Well, kind of. She's been in love with him since she was fifteen, and he wishes that night they shared never happened. She's sworn him off forever, but the past and future collide, forcing her to rely on the one man who broke her heart not once, but twice.
Her best friend since birth has been in a long-term care facility since he became a victim of a hate crime years ago, and the person who put him in there is out of prison and wanting to make amends with him and Roxy. She's not sure she has room for forgiveness in her and when she begins to receive frightening messages and is on the receiving end of escalating violence, she thinks she knows who is to blame. The man who already destroyed one life already.
But Reece isn't convinced. The threats are too personal, and even if Roxy doesn't believe him, he's not willing to let anyone hurt her. Including himself. He's already messed up more than once when it comes to Roxy and he's not going to let history repeat itself. ''
If you haven't read any of the 3 previous books in the series, you should really check 'em out. I flew threw them. Couldn't put my kindle down. If you like a story with charm, sass and plenty of laugh-out-loud moments, combined with raw emotion and sizzling romance; this is the series for you.
Get the e-book for £3.77 $7.99 Mass paperback
Quite the selection, eh? We think so! Feel free to comment if you'd like to add or recommend any of your March favourites! We'd love to hear about them.
Enjoy March and HAPPY READING.